In the upper left corner of the Search map, you may see a link indicating that there are unmapped listings: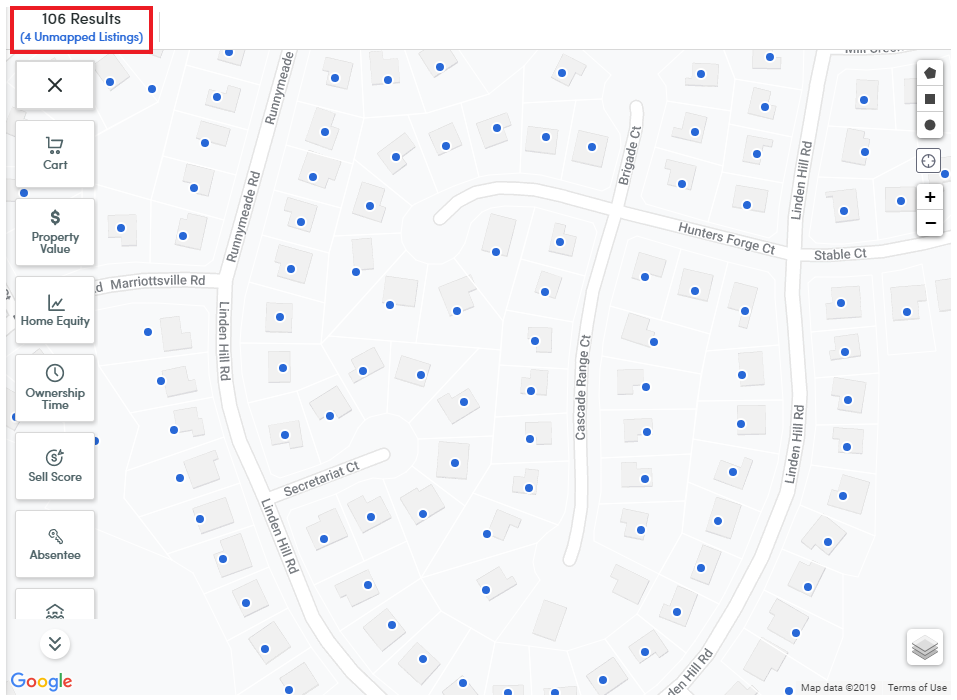 Unmapped listings in Remine are listings that we can't match to a blue dot. We populate our MLS listing data by matching listings to addresses in our property data. When we can't match a listing, we add it to our database of unmapped listings. The number of unmapped listings you'll see in any given map view changes based on the visible map area.
You cannot add unmapped listings to Carts, and they are not included in your results when you add to Carts in bulk. The number of unmapped listings is not affected by any filters that you apply, but simply there for your reference.
There are two main reasons why a listing may not match properly:
The

listing

data doesn't match the data we collect from the public record (e.g., street address or tax identification number).
We're missing data from the county, so we don't have a property in our system to match the

listing

.
Sell Score will always be disabled for unmapped listings, regardless of any sold, expired, or canceled dates. We calculate Sell Score based on a number of data points tied to a property's public record, therefore we can't calculate a Sell Score with just listing data. See the What is the Sell Score? article for more information.
Unmapped

listing

example
We were unable to match a listing for 5225 Pooks Hill, Bethesda, MD 20814 to a property in our system. There are a number of reasons why we were unable to find a match:
The parcel number (tax identification) included in the

listing

doesn't match the parcel number for any unit in the building.
5225 Pooks Hill Road

is a multi-unit property, so the

listing

is also missing an apartment number.
The

listing

doesn't include the street suffix, which is

Road.
The following table shows both the listing details for 5225 Pooks Hill, as well as the data we have for 5225 Pooks Hill Road in Remine. You can right-click and open each image in a new tab to see a larger version.
Listing

Details
Remine Data

For a larger image, right-click on image and open in new tab
View details for unmapped listings
In the case that there's a listing that has an assigned MLSID, but we aren't able to match that listing to an address in our system, you can still view a simple details page with just the listing information.
Click the (# Unmapped Listings) link in the upper left corner of the Search map to view a list of unmapped properties in the area.