It can be difficult to view multiple units on a single property, and we know that the experience of viewing that information on a property card was not the most functional experience. That's why we're making it easier for you to take action on the units in a building. You can now choose whether you want to see units in the form of a property card or as a table list view.
Property Card:
Here you can see an example property card for a unit in a building. From the property card, you can see that there are 71 total units in the building, that the unit (Apt 505) is currently off-market, and that the sell score is low. You can select Building Details to view more information about the property, or you can select View All Units to see a table list view of all units.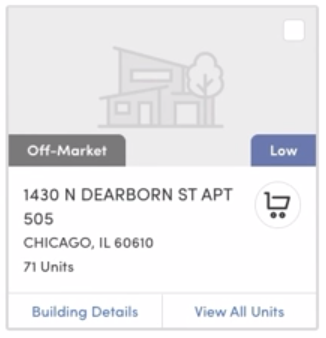 Table List View
Here's a view of the unit list! This view offers a table/list version of the unit information, along with details on status, equity, beds, baths, square footage, and lot size. You can also export units or add them to a cart. Just select the checkboxes next to the units you would like to export or add to a cart, then click the Export or Add to Cart button on the top bar.