The features outlined here are currently available to AKMLS, FMLS, LVR, MAR, NVAR, PWAR, Realcomp and VAR members only.
Smart Forms are a feature within Remine Docs+ that provides built-in intelligent features. When sending forms out for signatures, you no longer need to tag the signature fields. Smart Forms will recognize the role of the party in the agreement, and automatically generate tags for fields that are applicable to them.

We understand that it takes time to properly mark where each party needs to sign. Every Smart Form has built-in electronic signatures so signatures and initials are already marked for all parties. Simply add your respective party and share for electronic signing: we guide them through the signing process to help make sure it's done right every time.
With our Smart Form technology, Remine Docs+ understands what each field means in every form. This means that we can alert you and your respective parties if inputs are missing or entered incorrectly. This helps to ensure that documents are executed right the first time, helping to protect you from any potential liabilities down the road.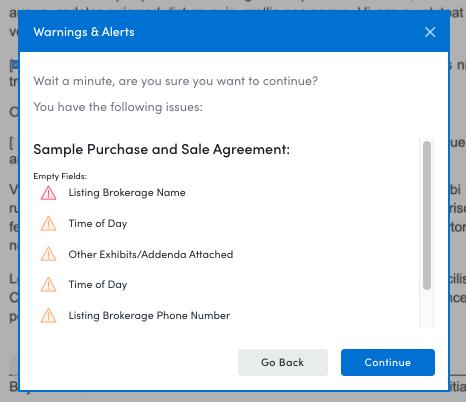 Smart Alerts are notifications that appear when creating a deal using SmartForms - they'll recognize if there is any missing information (such as missing fields, signatures, dates, initials, etc.) and will prompt you to correct these errors.