Credits are like tokens that grant you the ability to purchase available contact information from a property.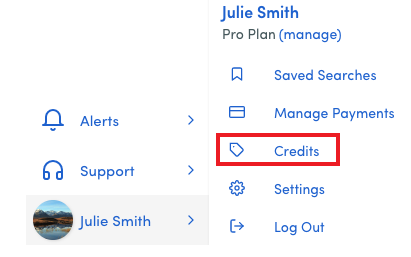 In the left navigation bar, click your username located at the bottem, and then click Credits. You'll see a list of all your credit transactions. Use the search bar to find a date, description, or the number of credits. You can also sort your credit transactions by clicking on a column header.

Contact Information Cost
One credit costs one dollar. If you're on the Starter plan, you can buy contact information by the household. This means that whether the house contains 1 person or 20 people, we will supply you with the entire household's contact information for 3 credits.
Note: If you're on the Pro plan, you have full access to the contact information at no cost.
To learn more about the available plans and their features, see the Plans article.
Adding C
redit

s to My Account
In the

, click your username, and then click

Credit

s. A page appears that displays your

credit

transaction history if any.
In the upper right corner of the screen, click . A dialog box appears, which displays your current

credit

balance and an option to add as many

credit

s as you like (minimum 10

credit

s). One

credit

costs one dollar.