Remine Docs offers you the ability to save time by sending documents to multiple recipients for signing, consecutively and automatically, by establishing a signing sequence. Documents are not sent concurrently, but rather to one recipient at a time, in a sequence established by you. When the ​first recipient finishes signing, the document will automatically be sent ​to the next one. ​
How to send a document to multiple recipients:
Start by selecting the documents that you wish to send, then ​select all of the participants who need to sign.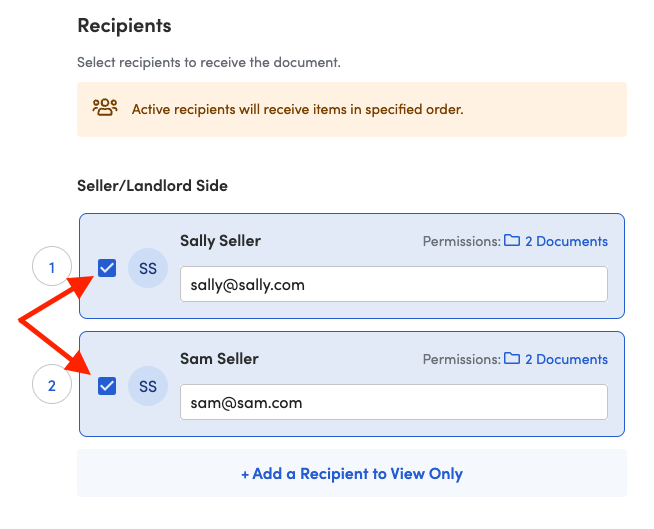 The order in which the document(s) will be sent can be controlled ​by clicking and dragging each box associated with each recipient and moving it up or down.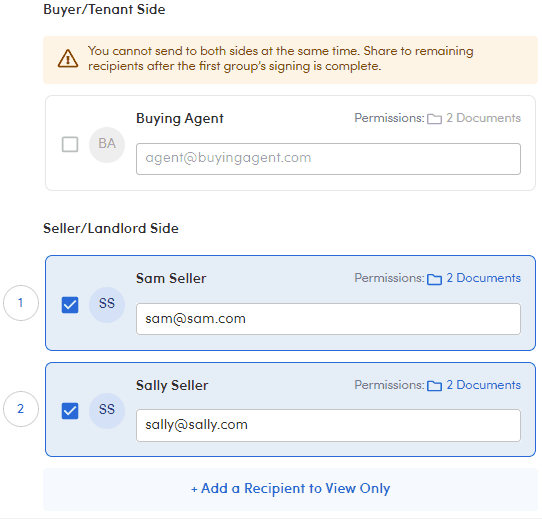 Clicking 'Send' at the bottom of the page will start the sequence by sending the document to recipient #1 first. When recipient #1 completes signing, three things will happen:
Recipient #1 will receive an email with a summary of their signing session, including a link to download what they've just signed
You, the agent, will receive an email notification informing you that Recipient #1 has completed signing
Recipient #2 will receive an email with a link to sign
This process will repeat until all participants who were added to the signing sequence have signed.
"Can I include the cooperating agent in the signing sequence?"
Yes, you can set the sequence to include the cooperating agent once your side of the transaction has completed their signatures. Clicking on the toggle under the 'Autosend' will enable this feature automatically. Once the cooperating agent receives the documents, they'll be able to send them to their own clients for signatures. Once their side is complete, they will need to hit 'send' to get the completed documents back to you.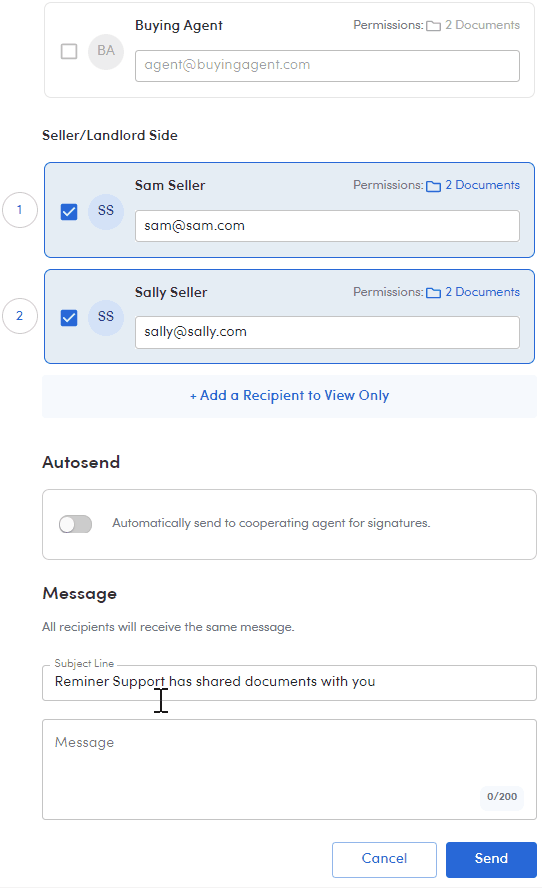 ​
Once you have sent the documents out for signature, you'll see the status in the e-sign tab update to 'In Progress'. To confirm you have the documents setup to automatically go to the cooperating agent after your side has completed signing, click on the status area. You will then see the pop-up appear stating the documents will be sent to the cooperating agent once completed on your side.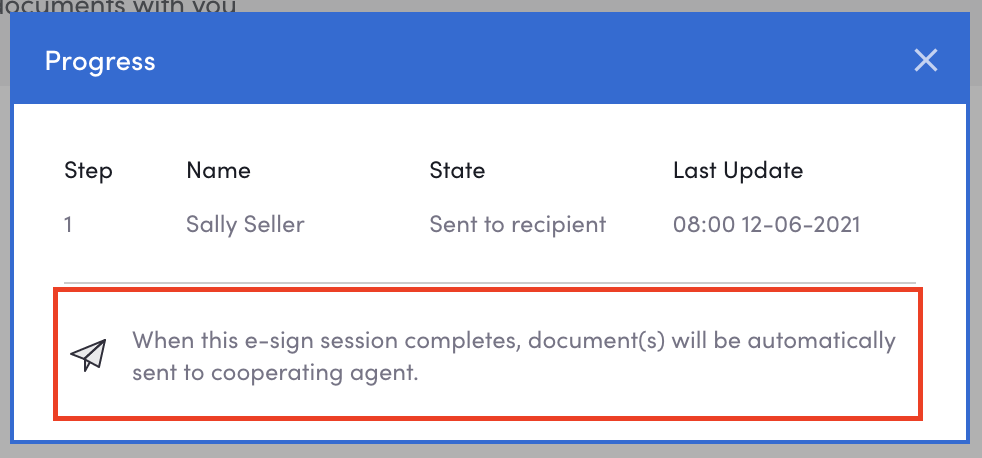 "How will I know when the sequence is complete?"
Automatic email notifications are sent to you as soon as someone finishes signing your document(s). If you sent a document to Billy and Brenda (in that order), you'll get an email alerting you that Billy has signed, and another one when Brenda has signed.
"Can I intervene in the sequence once it's started?"
A signing session can be canceled by clicking the 'cancel' button from within the e-sign tab. All parties will receive an email notification letting them know the session was canceled. It will also show in their e-sign history as a canceled session. More information on the E-Sign session can be found here.