Remine Docs offers you the ability to save time by sending documents to multiple recipients for signing, consecutively and automatically, by establishing a signing sequence. Documents are not sent concurrently, but rather to one recipient at a time, in a sequence established by you. When the ​first recipient finishes signing, the document will automatically be sent ​to the next one. ​
To watch a short video outlining the basics, click here.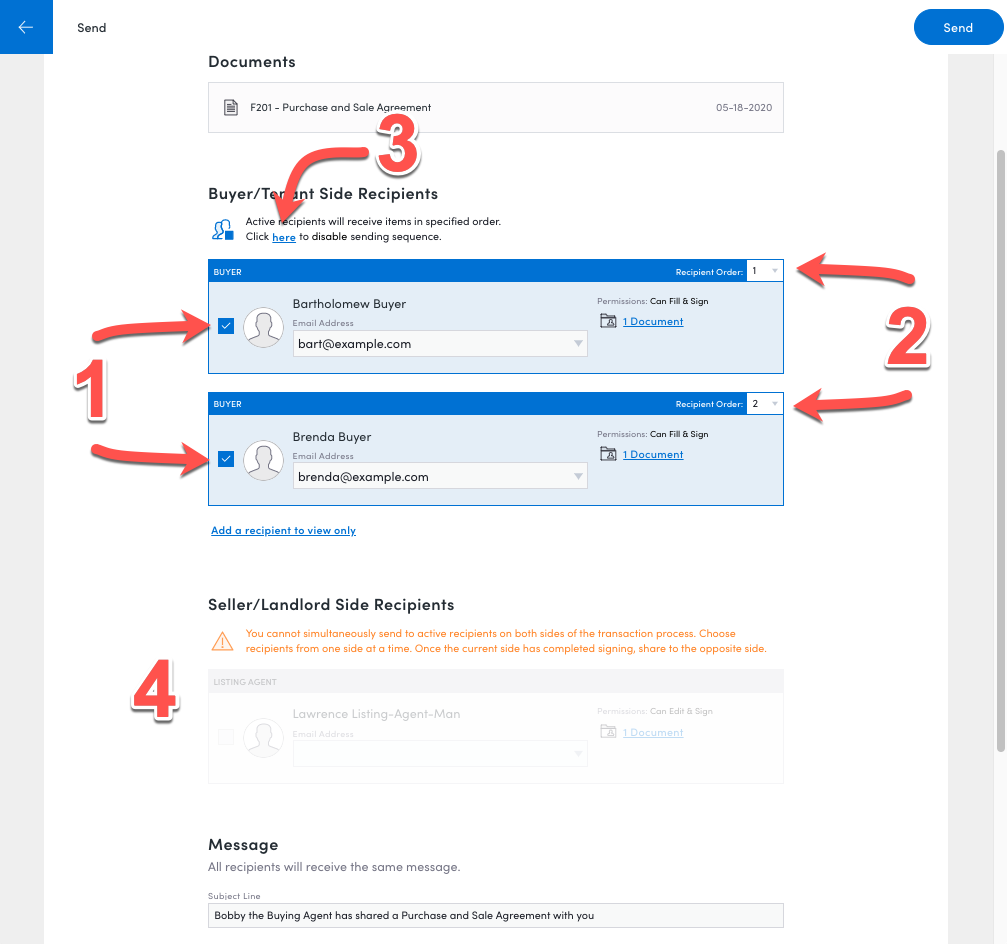 How to send a document to multiple recipients:
Start by selecting the documents that you wish to send, then ​select all of the participants who need to sign (1)​.
The order in which the document(s) will be sent can be controlled ​using the numbered drop-downs associated with each recipient (2)​.
Clicking 'Send' will start the sequence by sending the document to recipient #1 first. When recipient #1 completes signing, three things will happen:
Recipient #1 will receive an email with a summary of their signing session, including a link to download what they've just signed
You, the agent, will receive an email notification informing you that Recipient #1 has completed signing
Recipient #2 will receive an email with a link to sign
This process will repeat until all participants who were added to the signing sequence have signed.
Skipping the Sequence:
To disable the 'sequence' and send to all recipients simultaneously, ​click 'here' (3). Note that without an established signing sequence ​controlling which recipient has access and when, it is possible that ​two recipients may open and sign a document at the exact same ​time. In this event, Remine Docs may only capture one recipient's ​signatures.​ As a result, we recommend obtaining signatures one-at-a-time, or by using the Signing Sequence feature.
"Can I include the cooperating agent in the signing sequence?"
Signing sequences can only include members of one side of the ​transaction (4): As illustrated above, the cooperating agent cannot be ​included in the automatic signing sequence. When the signing ​sequence is complete, you can quickly review the document for ​completeness and send to the cooperating agent.​
"How will I know when the sequence is complete?"
Automatic email notifications are sent to you as soon as someone finishes signing your document(s). If you sent a document to Billy and Brenda (in that order), you'll get an email alerting you that Billy has signed, and another one when Brenda has signed.
"Can I intervene in the sequence once it's started?"
To override the signing sequence, simply send the same document ​again. Emails that are still 'pending' as part of the signing sequence ​(not yet sent) will be cancelled.
For example, let's say that you've sent a purchase & sale agreement to buyers A, B and C. Buyer A is unable to check his email for the next several hours, and you want to get the other buyer's signatures in the meantime. All you need to do is send that document again: either to just buyers B and C, or to buyers B, C and A in that order. Sending the document again will effectively cancel whatever sequence you may have started prior.