The features outlined here are currently available to MLS' that are partnered with our Docs+ platform.
Packages are here to help save you time. They're a combination of commonly-used documents, forms, and clauses, and can be customized and copied time and time again. Think of them as transaction kits: templates containing the same forms that you most commonly use in a deal, forever at-the-ready to use at a moment's notice. 
To check out a video version of this part of the guide, click here.
Get to know the Document Packages section: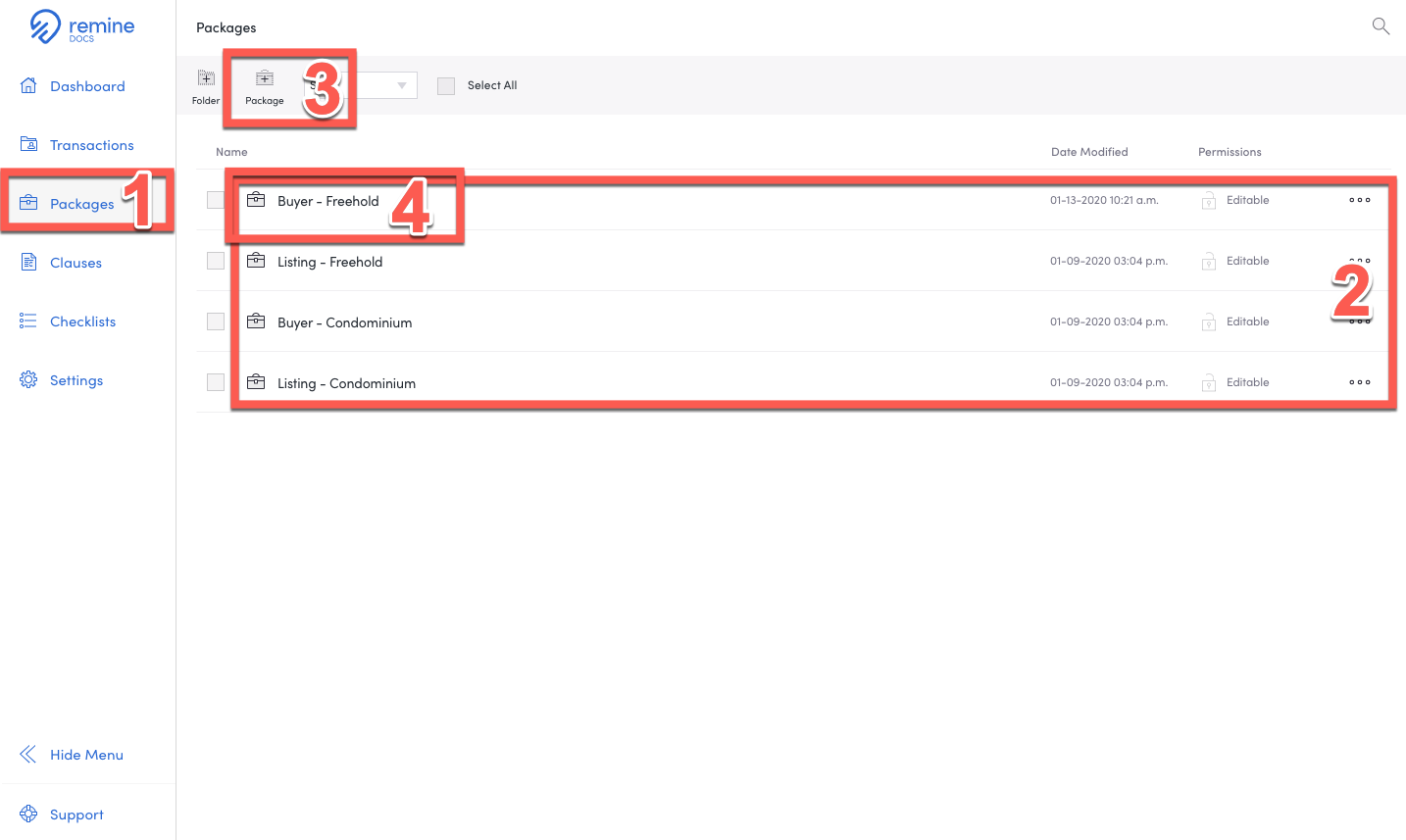 Click Packages in

 the left side menu.

 

Your Remine Docs account comes pre-loaded with several document Packages, 

each containing a combination of forms that are commonly used together depending on the type of deal. 

The packages shown in this article are here to serve only as an example: we strongly recommend using the packages given to you by your broker or administrator, or customizing your own Packages to your own specific preferences.

 

You can create a new Document Package from scratch by clicking '+Package'...

...but for this example, we'll open

 up the

 

'Buyer - Freehold' Package

. It contains a purchase agreement, as well as several other forms that I'd typically use when representing the buyer of a freehold: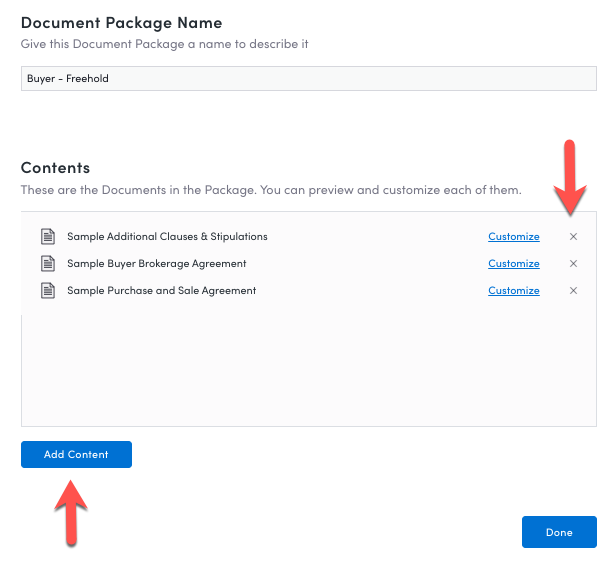 This package, like any other, can be customized to your needs. If you'd like to remove any one of these documents from the package, click the 'x'. To add another document to the package, click 'Add Documents'. 
Another item to note: you can order these documents in the order that you'd present them to your client. This can be done by simply dragging-and-dropping the documents until they're in the order you want.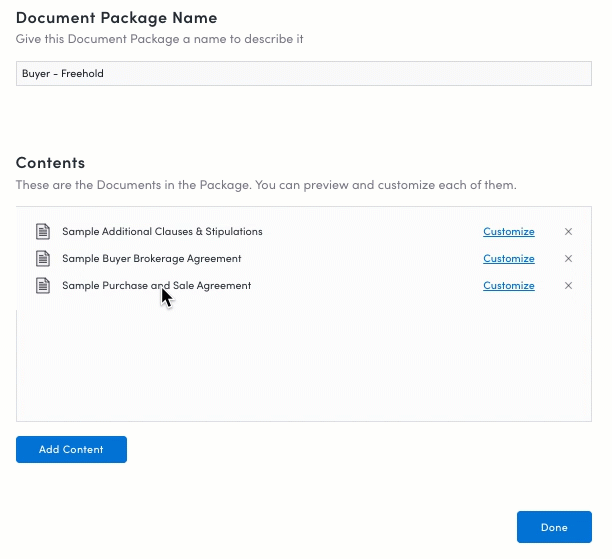 Save even MORE time by customizing the forms in your packages: 
Not only can you create various Packages so that you don't have to repeatedly gather specific forms for every new client - you can also customize the forms that make up those Packages to help save you even MORE time! 
Let's use this purchase agreement for example: From my 'Buyer - Freehold' package, I'll click 'Customize' next to this form and start filling in the fields that typically contain the same info from deal to deal. In this example, I'll add some clauses that I typically use (and I'll use a 'Clause Kit' that I created earlier):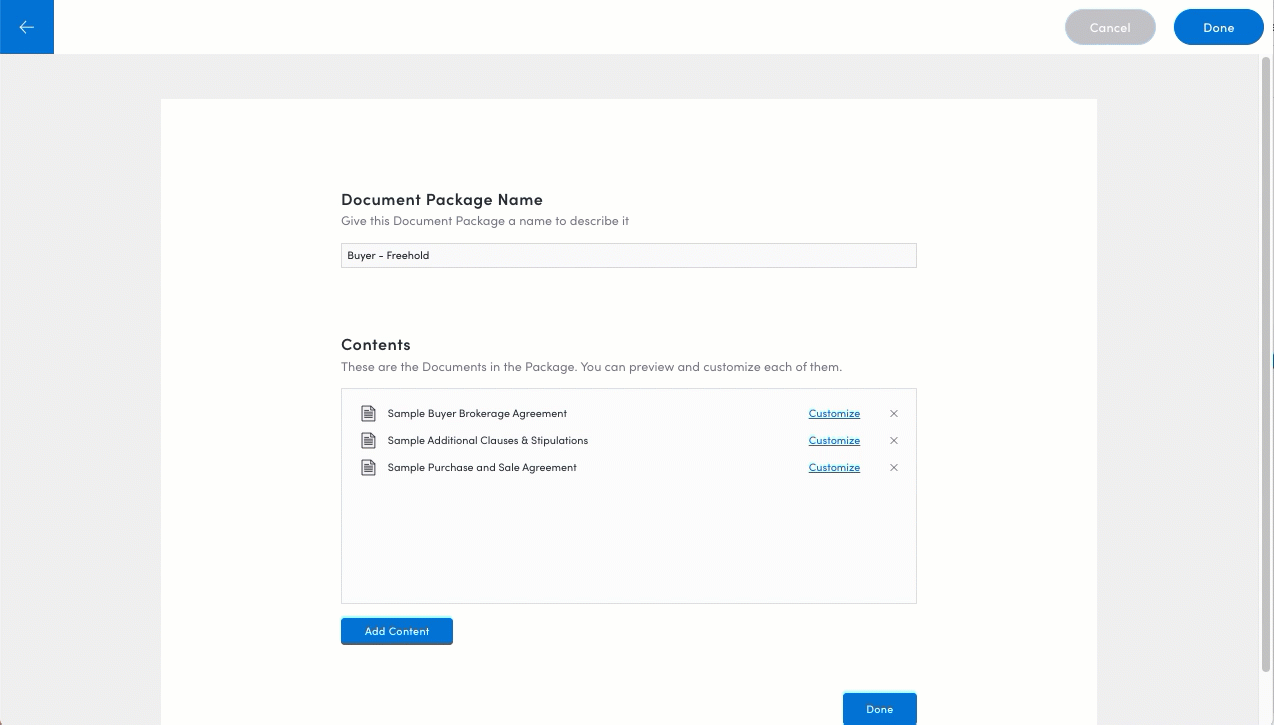 Anything you enter into these fields can always be edited once you're using these forms for a deal. 
One last item to cover: From time to time Remine will update the standard (state or association) forms that you find in the Form Library. Generally this happens when the actual association released the latest versions of their forms, or if the Docs team here at Remine makes some adjustments to things like the logic behind how fields work. When updates are made to the standard forms, an 'update/refresh' icon will appear next to the forms when viewing the Package contents: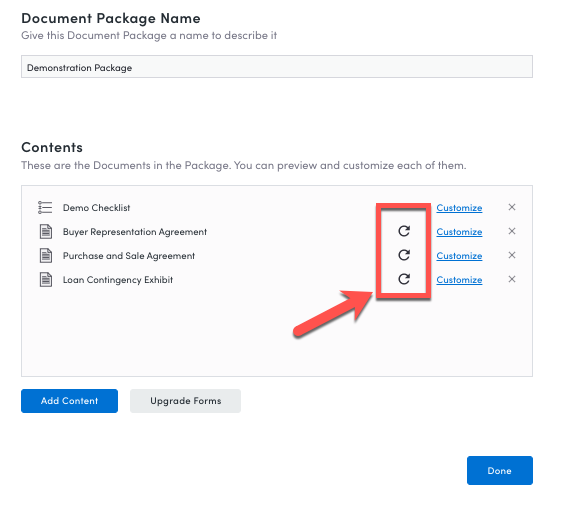 Clicking the refresh button will add the most updated version of that form to your Package. One thing to note, though: any customizations you've made to the former version of that form will not be saved, so you'll want to take a minute or two to re-add your customizations.
Checklists:
Checklists exist to help agents be sure that no important steps or actions items pertaining to a transaction are missed.​ While your account may come pre-loaded with some checklists from your admin or broker, know that an unlimited number of checklists can be created by clicking the 'Checklists' button at the top of the page:​
Give your Checklist a name, add each task by clicking 'Add Task' and click 'Save' when you're done: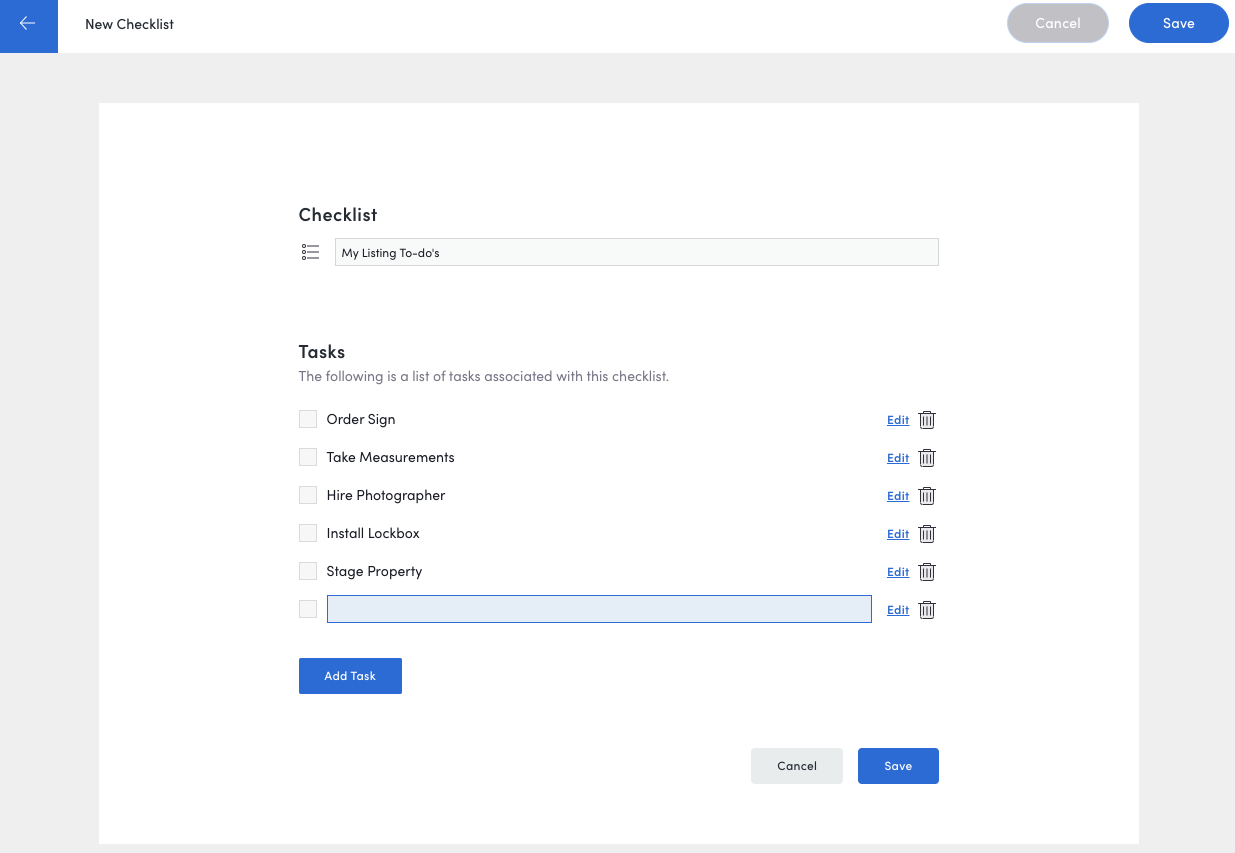 Note that Checklists can be further organized with folders, which can be added by clicking the 'Folders' button at the top of the main 'Checklists' page.​
Now that you've got a Checklist or two in your account, know that you can add a Checklist to a Transaction folder by clicking the Checklist' button at the top of the page and clicking either 'Select' to choose an existing Checklist to add, or 'Create New' to make one from scratch: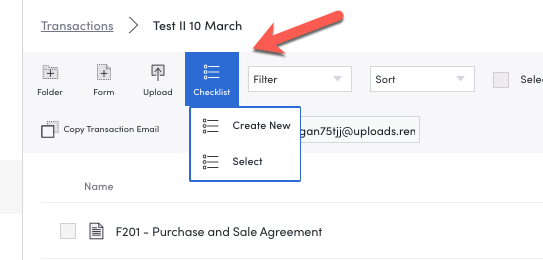 Once the checklist has been added to a Transaction folder, know that you can click 'Associate Documents' next to any item to 'tie' any folder items to that task For example, if I obtained a detailed floorplan or survey, I could upload that document into the Transaction folder and associate it with a "Take Measurements" task: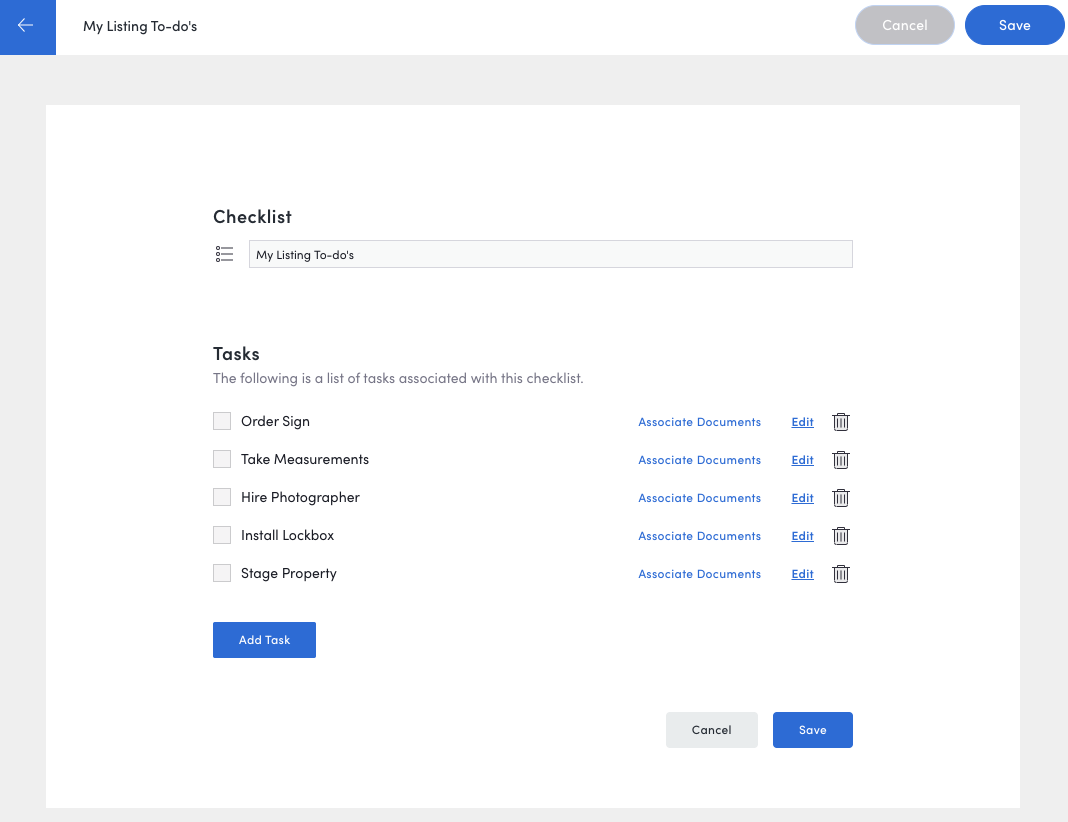 To summarize, if you've got some real muscle-memory built up from entering the same information to the same fields over and over and over, chances are that adding it to the forms in your customized document Package will save you a lot of time. Checklists can be added to your packages to help keep things on track.
Now that you've seen how to set up your Document Packages, click here to move forward to part 5: Transaction Folders.