The features outlined here are currently available to MLS' that are partnered with our Docs+ platform.
Impersonation allows agents or members of a brokerage to assume the role of another agent in his/her Remine Pro account – subsequently, the access given to the impersonator applies to the Docs+ account as well.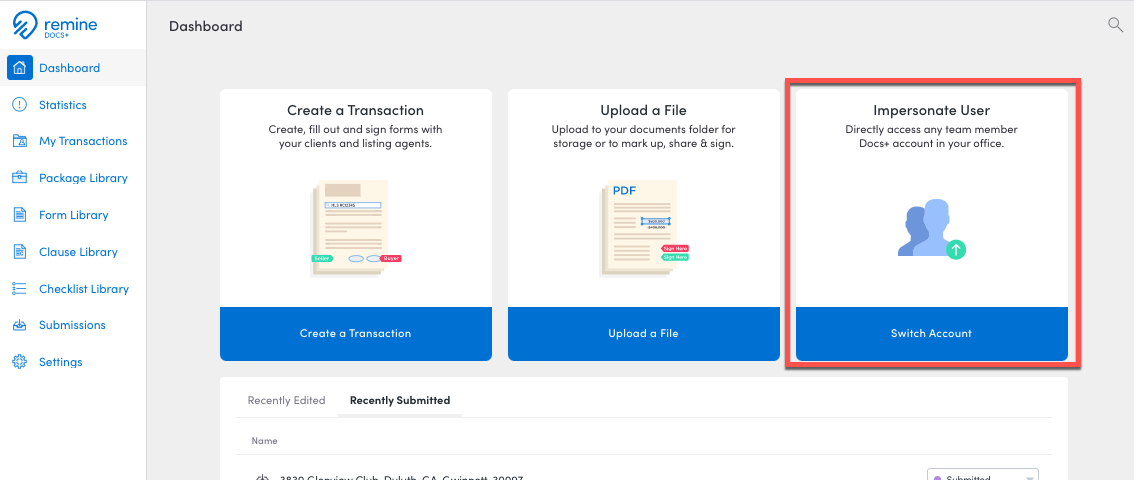 To enable impersonation:
Click the Profile Settings button of the main Remine Pro web app and open the 'Impersonation Settings' section

Turn the 'Allow impersonation' switch on

Search for - and add - other Remine users by their name
System rules prevent any users from outside of your brokerage association from being added as impersonators.
Impersonators can be deleted (their access to your account revoked) from the same page by clicking the 'Delete' (trash can) icon next to the impersonator's name.
As an impersonator, you can access your team members' accounts by:
Clicking 'Switch Account' on your Dashboard
Search for the user whose account you want to access and select that user
Viewing the agent's Remine account, you can access their Docs from the left side menu by clicking 'Docs.'
As an impersonator, your own signature/initial stamp will be applied when signing rather than the agent whom you're impersonating.
Because of this, we recommend checking the documents that you're signing to make sure that your name appears in applicable fields, rather than the agent whom you're impersonating.