The features outlined here are currently available to MLS' that are partnered with our Docs+ platform.
Remine Docs+ provides agents with a streamlined solution for collaborative, cloud-based, end-to-end document creation, e-signature and transaction management. For a high-level glimpse of some of the key features, check out this quick video.
As a broker or office admin, there are a few features and concepts that are important to understand to help make sure that your brokerage is getting the most out of Remine Docs+. This article will guide you through those features.
A Brief Look Through the App
First and foremost, you'll notice that your Docs+ account looks very similar to that of your agents. You've got essentially the same core menu options on the left, and each section of the applications, fundamentally, looks the same with a couple of glaring exceptions: You've got a 'statistics' menu option, and your Dashboard includes an easy-to-access impersonation button: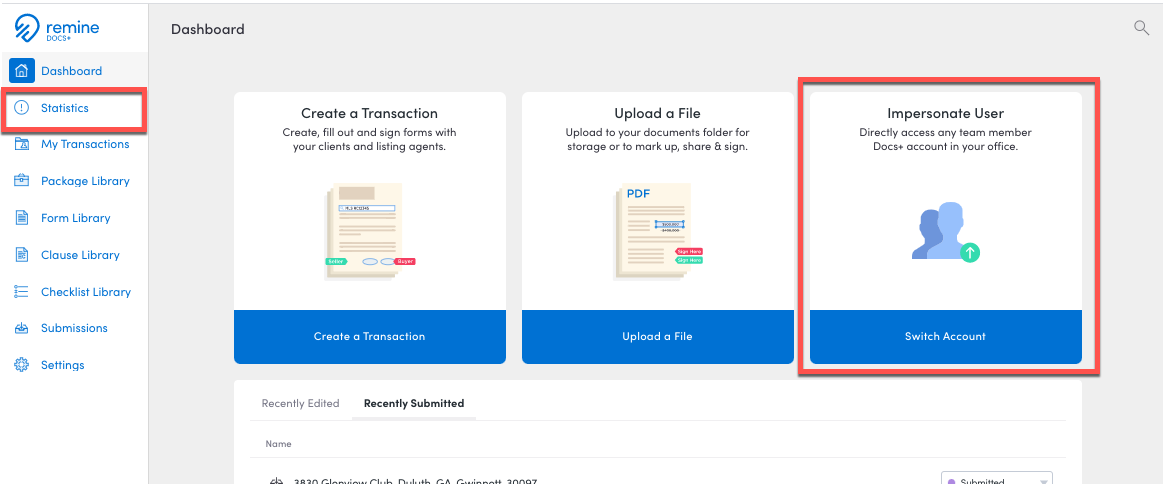 The agent-facing buttons to 'Create a Transaction' and 'Upload a File' are also included in your Dashboard, and these allow admins and brokers like yourself the ability to have a private space for your own transactions if you need it.
Statistics:

The statistics displays some key stats pertaining to all members of your team.
'Activated Users' is the number of newly activated/added users to your team. 'Unique Logins' is the number of unique users in your organization who have logged into Remine Docs+ in a given time frame. 'Documents Created', of course, is the number of newly created documents (Smart Forms or uploaded files) for all users across your team.
My Transactions:
This is where your own Transactions are organized. This is particularly useful for brokers who still do deals themselves: the transactions listed here are yours and yours alone. Your fellow account admins don't see the contents of your Transaction folders until you've submitted them for review.
Package Library:
Create your own document Packages here, or create Packages for your agents to use. More on distributing Packages to your agents later in this article.
Form Library:
The concept of the Form Library is pretty simple: any and all standard forms that you have access to can be found here, organized in various folders. If you ever need to look at a form for reference, or download a blank copy to print, you can do it here.
Clause Library:
Standard association and state clauses are pre-loaded for every member of your MLS and organized in 'Read-only' folders. Your brokerage also has a folder here: its contents will be accessible to everyone in your organization (more on this later). Also, like your agents' accounts, you can also create and store "custom" clauses for your personal use.
Checklist Library:
Like 'Packages' and 'Clauses' mentioned above, you can create your own, personal checklists here, or create checklists within your organization's folder that will be distributed to all associated members.
Submissions:
When your agents' transaction documents are ready for admin review, they can submit them to your office from their respective Docs+ accounts. Once submitted, the transaction documents will appear in your brokerage's folder, and can be managed from there.
Announcements:
This is where you can send out notifications to your team. Announcements pop up on the Dashboard when the recipient logs into their Docs+ account, and, if need be, can require the recipient to confirm that they've read the message. More on Announcements here.
Settings:
Basic account settings and preferences are managed here – these apply to your own Docs+ account and will not affect anyone else in your organization.
Distributing Packages, Clauses and Checklists To Your Team
To understand how the team-wide distribution of Packages, Clauses and Checklists works, we need to understand the folders within these sections of your admin/broker account.
In your admin/broker account, your 'Packages', 'Clauses' and 'Checklists' sections each have a permanently affixed folder with the name of your organization. So, for example, my Clause Library contains a section for my personal clauses (called 'My Clauses') and a section for my brokerage clauses (likely the name of your brokerage) under the 'More Groups' section illustrated below: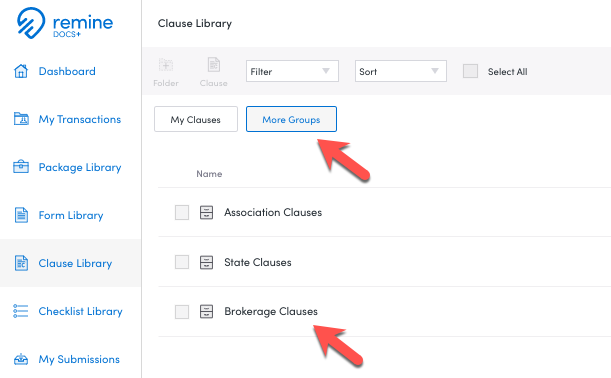 Any Clauses created within your organization's folder will be visible and accessible to everyone in that organization. If I clicked on my organization's folder ("Brokerage Clauses" in the example below) and then clicked the 'Clause' button to add a clause, the clause that I create will appear in the brokerage clause folder in my agents' accounts: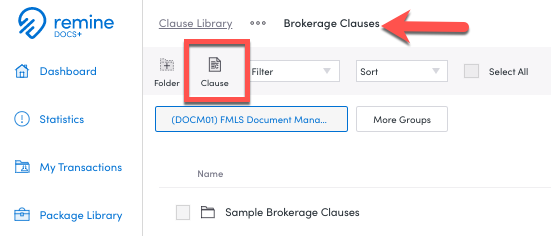 The same distribution concept applies to Packages and Checklists: any document Packages or Checklists that are created/stored in your brokerage's Package/Checklist folder will be visible in your agent's accounts.
Furthermore, know that Clauses, Packages and Checklists can first be created outside of your organization's shared folders, and then moved into the shared folder using the 'Move' function displayed here: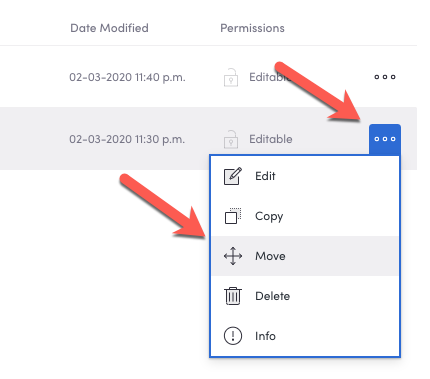 | | | |
| --- | --- | --- |
| To distribute a Clause: | To distribute a Package: | To distribute a Checklist: |
| 1. Go to the 'Clauses' section | 1. Go to the 'Packages' section | 1. Go to the 'Checklist' section |
| 2. Click on your brokerage or organization's folder | 2. Click on your brokerage or organization's folder | 2. Click on your brokerage or organization's folder |
| 3. Click the 'Clause' button near the top of the page | 3. Click the 'Package' button near the top of the page | 3. Click the 'Checklist' button at the top of the page |
| 4. Title your Clause and add the clause text | 4. Title your Package and add the forms you want to include | 4. Title your Checklist and add the tasks |
| 5. Click 'Save' | 5. Click 'Done' | 5. Click 'Save' |
Creating Templated Packages
Another feature that Remine Docs+ offers is the ability to 'template', or pre-fill any field in a document Package Smart Form. What this essentially means is that if you've created a Package for your agents to use, the forms in that package can have certain information pre-filled. This helps to both save your agents time as well as help eliminate potential errors during a transaction.
So, for example, if I created a Package for my agents to use when representing a buyer for a freehold, I can create a 'Buyer - Freehold' Package and pre-fill certain fields in certain forms for them.
From your 'Packages' section, open a document Package and click 'Customize' next to a form: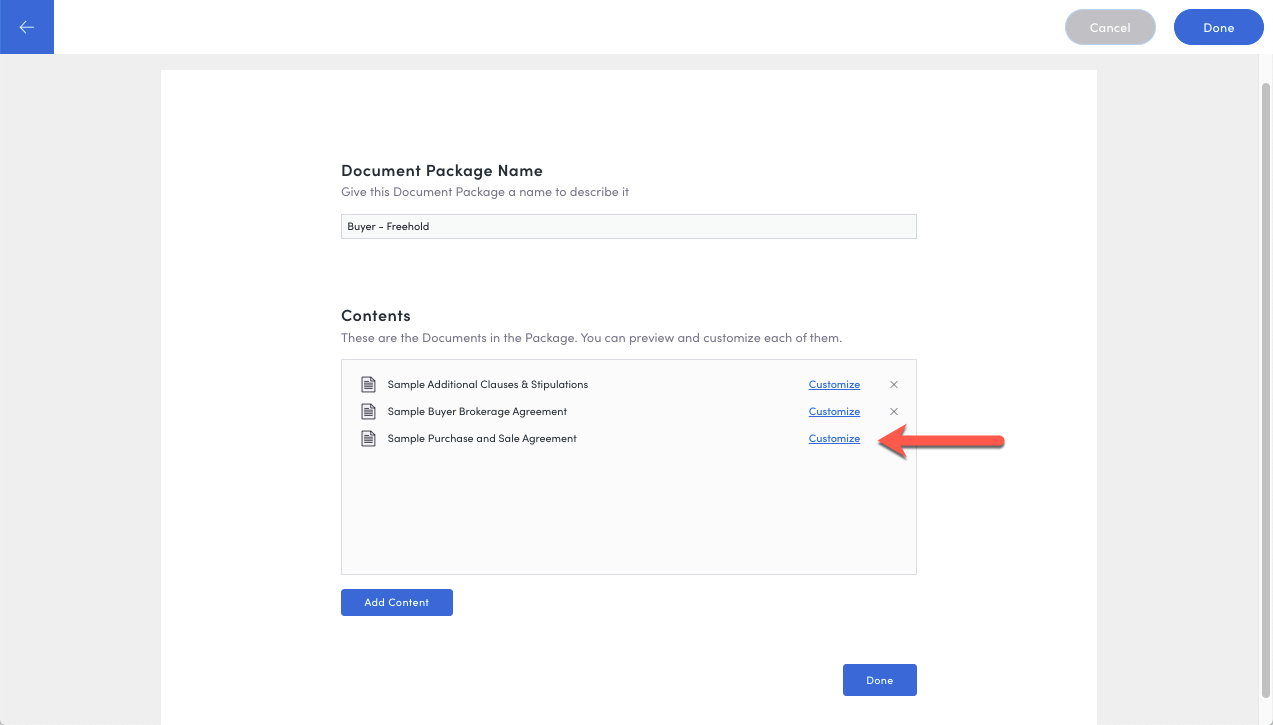 Populate any fields you want automatically filled when your agents use this package. In this example, I'll add the closing attorney/law firm that my team uses, and then click 'Done':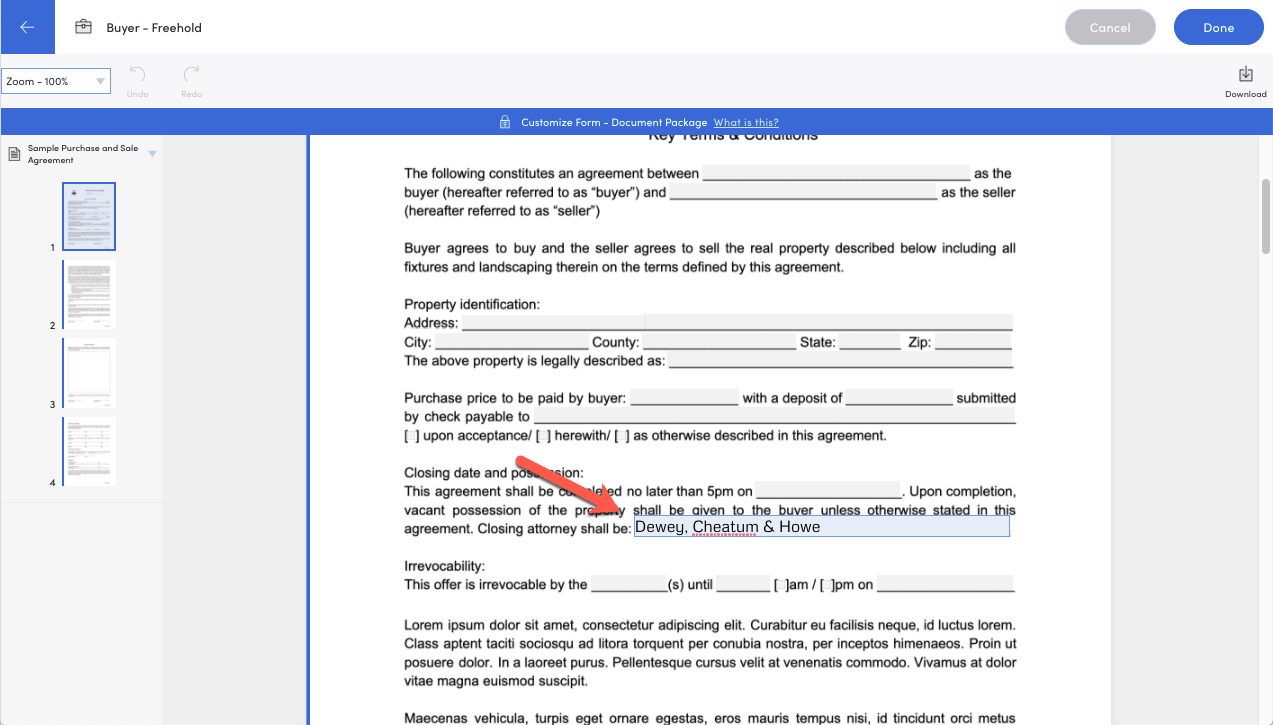 Now that I've made this customization to the form in my 'Buyer - Freehold' package, a small 'customized' icon will show when viewing the contents of the package: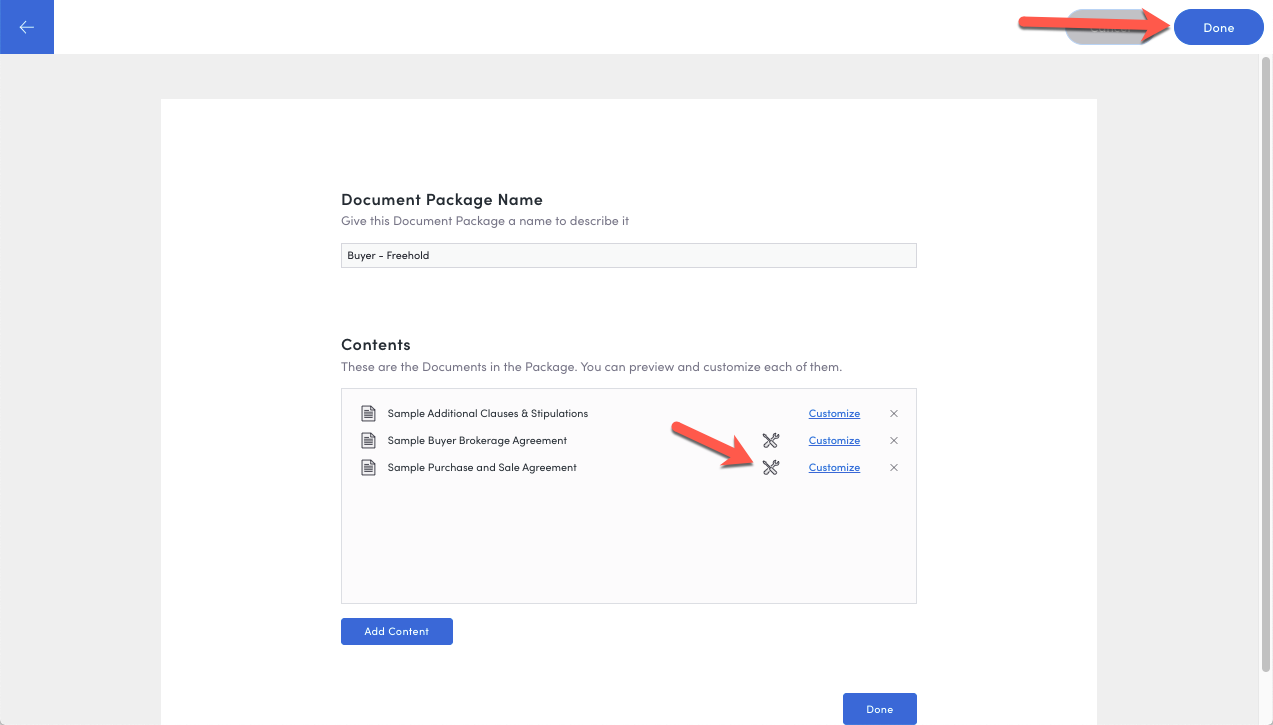 Now, when my agents use this package that I've distributed to them, the closing attorney is already there: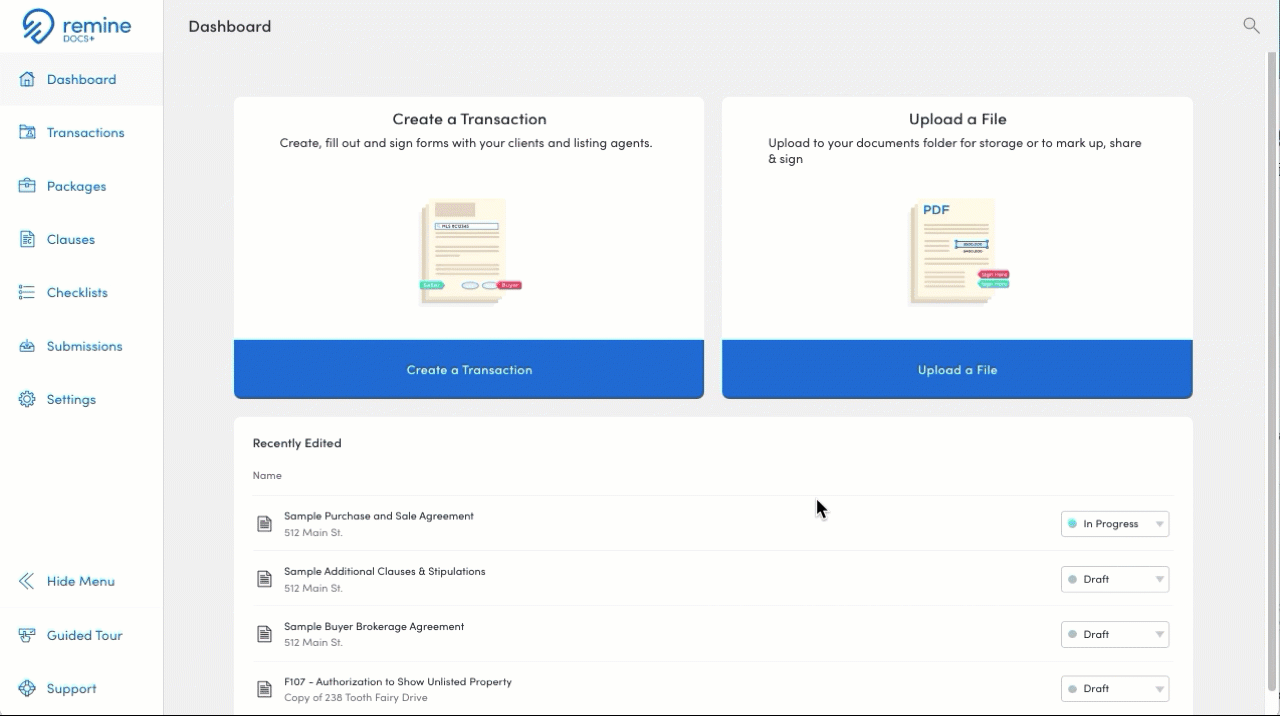 There's no limit to the number of customizations you can make to any forms in your team's Packages! If you want your team to be using the same set of Clauses ("special stipulations") every time they use this Package, just fill them in wherever they belong using the workflow above. The more you can pre-fill, the more time you're saving your agents. Know that anything that's pre-filled in these Packages can still be edited when your agent is filling in the form, just in case.
Managing Your Submissions
As your agents submit their transaction documents, they'll appear as folders in your 'Submissions' page. To view your team's submissions, click 'Submissions' in the left side navigation menu and then 'More Groups'. You'll likely see a structure of folders in this section, depending on how your organization is structured.
Each submission folder contains the documents that your agents have marked as complete and submitted to your office for review.
To assign a submission, click the drop-down to the right of the folder and select the assignee:

The assignee can then access the submission folder within their Docs+ account and review the documents for accuracy and completeness.
Statuses can be changed manually to communicate with your agents as to what's happening with their submissions (1), and comments can be used to further point out any needed corrections or items requiring the agent's attention (2). Know that comments can be made for the folder as a whole (3) or for specific documents (4):